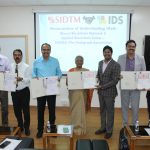 Press Release – News
Information Data Systems (IDS) and Symbiosis Institute of Digital and Telecom Management (SIDTM) a constituent of Symbiosis International (Deemed University) (SIU) have joined forces to foster blockchain education and applied research in telecom sector. The collaboration aims to establish the Applied Blockchain Centre at SIDTM, focusing on Hedera Hashgraph and the Bharat Blockchain Network (BBN).
Under the Memorandum of Understanding (MOU) signed between IDS and SIDTM, the partnership will address three key areas, including enterprise blockchain for the digital and telecom sector, Hedera Hashgraph use cases and implementations, and use cases of national interest on the Bharat Blockchain Network.
Selected students and faculty members of SIDTM will have privileged access to the Applied Blockchain Centre's state-of-the-art lab facilities for hands-on sessions and applied research work under the MBA program.
IDS will also organize various activities, including Joint Blockchain Certification Programs for Telecom Professionals, Faculty Development Programs (FDP), and Blockchain Annual Summit, to foster blockchain expertise at SIDTM.
Speaking about the collaboration, Mr.Sudharshan Reddy Minumula – CEO, IDS said, "We are thrilled to partner with SIDTM and promote the growth of blockchain adoption in Telecom sector." Mr.Voruganti Aravind-Global Vice President-Blockchain,IDS said "Applied Blockchain Centre at SIDTM is one of the 5 Applied Research centres as part of Bharat Blockchain University Industry Cluster (UIC) aligned to guidelines of University Grants Commission." Mr.Sunil Subrahmanyam – Head of Business, IDS & Alumni of SIDTM said "I am elated in forging this collaboration between IDS and my Alma-mater as a moment of pride giving back to college for the benefit of my juniors at campus". The Vice Chancellor of the SIU addressed the students and mentioned the importance of role of technology for management graduates and wished that SIDTM will enhance research and innovation with the help of this new technology. The Director SIDTM, Dr. CA. Abhijit Chirputkar mentioned that SIDTM has adopted the Digital Communication Policy, 2018 and since then set up labs in various technologies to give students an experiential learning. Dr. Giri Hallur, Dy. Director of SIDTM offered vote of thanks. Dr. Natraj N.A., faculty from SIDTM will be in charge of this lab and activities under the MoU.
Information Data Systems (IDS) is a renowned leader in the enterprise blockchain space, providing cutting-edge solutions to various industries worldwide, driving digital transformation and creating new opportunities for businesses. Symbiosis Institute of Digital and Telecom Management (SIDTM), a constituent of Symbiosis International University, is a premier institute known for its excellence in telecom and digital management education, nurturing future leaders and entrepreneurs in the digital and telecom sectors.