Corporate
Symbiosis Institute of Digital and Telecom Management has been working with multiple corporates on live projects, corporate consultancy projects and research projects.
SIDTM Can help corporates in the following fields.

Tailer made MDP's to train your workforce

Market Research Projects involving Digital and Telecom Industry

Cyber Security and Cloud Implementation projects

Digital Marketing and Branding Projects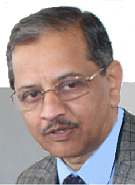 Profile of the Coach
"In my humble opinion, Whatever be the context of coming together… Business, Professional, Social, Religion, or other, The ultimate aspiration of an individual is To expand the well-rounded progress Across personal, professional & spiritual spheres."
Endeavouring for this cause at back of his mind for past 4 decades Dr. Pramod Damle has been interacting with a cross-section of society including Directors, Scientists, CXOs, Auditors, Students, Professors, Judges, IAS/IPS/Army Officers and Layman, in various forms like coaching, counselling, mentoring, training, education, consulting, articulation etc. on topics as diverse as Education, IT, Psychology, Banking & Finance, Career Transition, Health & Spirituality … with the two-way gain invariably every time. Having received instruction in Maths & Stats, IT, Laws, Banking & Finance, Psychology, and acquired world-class certifications of PMP, CISA, CISSP, TOGAF, ABCI, CSQA, GSLC, he has balanced his career between practice and preaching. On one hand he has served academic organizations like IIM, Symbiosis, IGNOU, University of Pune, Yashada (Maharashtra Government's apex academy at Pune), RBI's IDRBT, PMI, ISACA, ISC2 etc. in the capacities of Professor, HoD, Distinguished Fellow etc and on the other hand has contributed to corporates like SBI, IBM, Reliance, New India Assurance, L&T, Oil India, various banks etc. where he assumed roles of manager, auditor, consultant, business unit head, director etc. Besides, with a mantle of an entrepreneur he launched his own consulting company that he operated for a decade, before entering the academics.
Working as a professor & head of research and consulting at SIDTM (Formerly SITM) – the Symbiosis' telecom B-school at Pune – for the past seven years, he has authored several research papers/ articles & few books and has been guiding the doctoral scholars at Symbiosis International University for eclectic domains of mobile technology, knowledge management, impact of social media on working class, coordination between army and civic authorities in disaster management, bearing of ancient Vedic scriptures on modern management, etc. During the pastime, he offers psychological counselling on various life stages like adolescence, pre-marital, marital and old age, as a social service.