ISR
Vision, Mission and Director's Message
Vision
To create a socially inclusive society where every human can live with dignity and be treated equally.
Mission
To serve as a healing hand of SIDTM (Formerly SITM) by working towards improving the quality of lives of the people.
Director's Message
At SIDTM (Formerly SITM), we very much want to be a part of the society; we want to pay back to the society which has given us so much. The students at SIDTM (Formerly SITM) understand what their responsibility towards the society is.
There are millions of people in this country who do not even have a good meal in a day, there are millions of kids in this country who have no access to education, although they have a very strong desire to study. For the same, SIDTM (Formerly SITM) has a students' committee - S.P.A.R.S.H. working towards the upliftment of the underprivileged section of the society.
"Embrace the joy of giving by contributing for a living"
S.P.A.R.S.H., the ISR committee of SIDTM (Formerly SITM) organized "FUN AND FOOD CARNIVAL" intending to raise funds for the underprivileged section of the society by giving an exposure to those students who were passionate about their culinary, gaming and entertainment skills. The carnival reflected the entrepreneur and the leadership skills of the students who set up the food and welcomed enthusiastic foodies to taste the food. The food stalls had sumptuous food items ranging from sweet to spicy. The fun stalls had various games which were enjoyed a lot by the crowd. The event recorded high participation from students and a lot of appreciation from the faculties who came and empowered the teams. The revenue earned by the event was donated to an NGO – "SPARSH Balgram" located in Alandi Pune. The carnival made everyone felt a sense of pride and joy of giving by organizing an event that contributed to society for the good.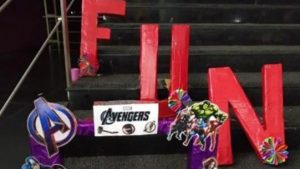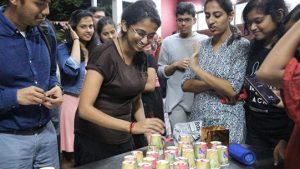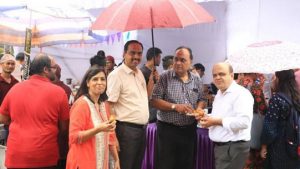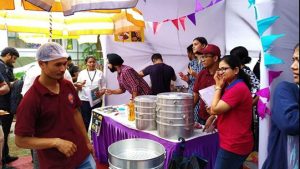 "A cleanliness drive, for a clean nature"
Swachh Bharat Abhiyan is a nationwide cleanliness campaign that aims to focus on "Clean India, Green India" initiative. S.P.A.R.S.H., the I.S.R. arm of SIDTM (formerly SITM) profoundly supported the campaign by spreading awareness amongst the college students, staff and faculty members. The team highlighted the importance of cleanliness, waste management, proper disposal of garbage and sanitation amongst all the college authorities. Students also went to Sus village, Pune to clean the roads and garbage to spread the message to the community – "If not us, who else will". The initiative was a profound message to the community to keep the surroundings clean and green. The team had a great experience in organizing this drive where everyone from the college came forward towards a clean and green nature.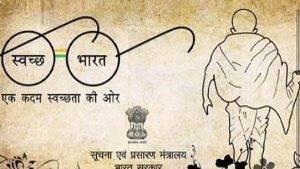 Entrepreneurship Awareness Camp (E.A.C.)
"An initiative to create an awareness"
After over 7 decades of Independence and Industrialization in our country, a large part of the population still remains under the poverty line. 'Entrepreneurship awareness Camp' is an initiative taken by S.P.A.R.S.H., the I.S.R. wing of SIDTM (Formerly SITM) for 3 consecutive days, to create awareness among the children from backward societies about entrepreneurship and financial aid that is available. It is also an effort to promote the Govt. of India's initiative of developing a culture of innovation and entrepreneurship. Elite personalities from various sectors such as banks, MSMEs, start-ups, and MNCs are invited to conduct keynote sessions and share valuable insights into the entrepreneurial arena with the students from various colleges.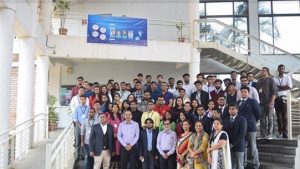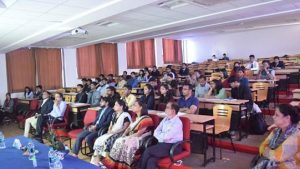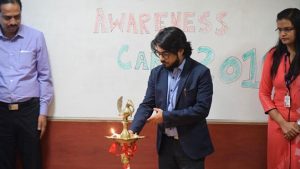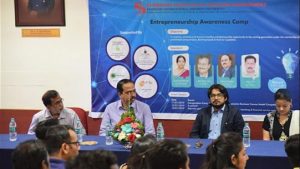 Education leads to the road to betterment of a community and the nation at large but when we talk about India, children in rural areas continue to be deprived of quality education. In view of this concern, every Friday 10 to 15 SIDTM (Formerly SITM) students from S.P.A.R.S.H. visit the Zila Parishad school at Sus Gaon village in Pune. We volunteer and give our time to make a difference by introducing these children to better learning techniques and help in creating an exciting environment for them so they can learn efficiently. We ourselves plan, formulate and design the teaching aids and study material to make them learn the basics of spoken English and using computers in the best possible and easy way. So far we have been teaching these two subjects to the children of 5th standard only, we plan to extend our work to other classes also and include some other subjects. Through these school visits S.P.A.R.S.H. has followed its motives of ACT, REACH AND SUPPORT and will continue empowering the rural children to meet future challenges.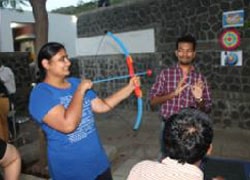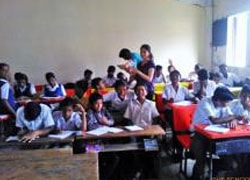 Blood Donation Drive – 31st Jul 2019
"Let's give a little, share a little, donate a little"
The Blood Donation Drive was organized by S.C.H.C in association with S.P.A.R.S.H on July 31, 2019. S.P.A.R.S.H, the I.S.R committee of SIDTM (formerly SITM) was actively involved in the event, taking a step ahead towards the betterment of the society. The team created awareness for blood donation by creating handmade posters and by organizing Flash Mob one day before the event where the students performed enthusiastically and invited everyone for the blood donation highlighting the facts, myths and the importance of blood donation. The response on the day of the event was impeccable where people contributed selflessly on their part. The donors were given a certificate from S.C.H.C. also a pen, a notepad and a keychain from S.P.A.R.S.H. The event ended successfully recording huge participation and encouragement from everyone.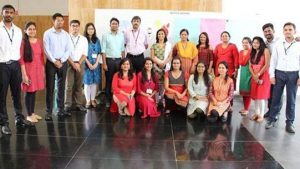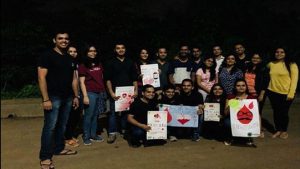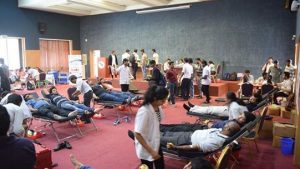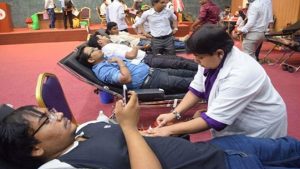 Band drive, an initiative to curb human trafficking and rehabilitate its victims was held in collaboration with S.H.A.P.A.T.H, the CSR team of SCMHRD, and an NGO APNE-AAP. Wrist bands were sold to people with the dual purpose of generating revenues as well as spreading awareness amongst them. This activity further acquired solid ground, when the consent of people was collected to present a petition to the President of India for making minor modifications in the law. Held on 31st August and 1st Sept 2013, this event covered more than 24 areas in Pune and thus gained overwhelming support. To further widen the involvement and spread awareness, expansion will be done amongst other parts of the country as well as some in undergraduate colleges of Pune. This event is still to become magnanimous and contribute in a larger way to the society.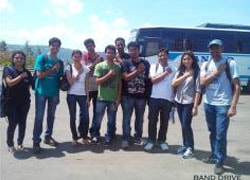 Utsav, as the name suggests, is a festival of sorts, but with a difference. This takes place just before Diwali. This event is conducted through tie up with various NGOs like Niwant Andh Mukt Vikasalay, Path Autistic Training Centre, Sneh Kshitij, India Sponsorship committee and many more. The special children and women of these NGOs make diyas , candles, chocolates, mugs, envelopes. All of these are exhibited during Utsav with great vigour and enthusiasm by the S.P.A.R.S.H members in the campus. The students from SIDTM (Formerly SITM), SIBM, SSBF and SIMC gladly buy them. By doing this, the students play a small part in bringing the smiles back on the faces of those who wish to smile just like us. The money which is collected during Utsav is given to the NGOs in totality. Diwali is the festival of lights. The monetary fund collected by us serves to lighten up the few deprived lives , only to make the festival more bright and ornate.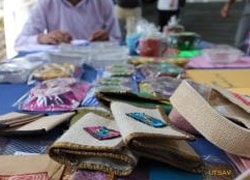 "When you give with joy, your reward is in the giving"
Every citizen of a country is entitled to basic necessities such as Food, Shelter and Clothing. However, in India, there is a section of individuals who live below the poverty line and are deprived of these basic facilities. Hence, 'Feed the Need' is a very noble initiative taken by S.P.A.R.S.H., the I.S.R. wing of SIDTM (Formerly SITM). Every year, in this event valuables, are collected from the students and faculties of Symbiosis in form of clothes, shoes, bags, stationery items etc. and then donated to an NGO to facilitate the further process of donation.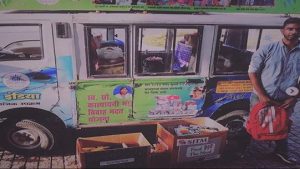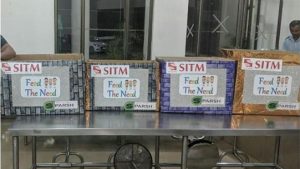 SHAPATH (Annual NGO Homecoming Event)
"A pledge to share happiness, charity and benevolence"
One of the most awaited events organized by S.P.A.R.S.H. was "SHAPATH". This year the team welcomed the children in the age group of 9-16 years from an NGO – "SPARSH Balgram" located in Alandi Pune to the institute in order spent an entire day with them. The aim of "SHAPATH" was to share happiness and establish a bond with children by spending some time with them. The event added some beautiful moments into S.P.A.R.S.H. diaries where children actively took part in singing, dancing, drawing competition, musical chairs etc. The students organized fun games and various interactive competitions where the children participated actively and enjoyed a lot. The event was full of immense peace and satisfaction where everyone appreciated the kindest efforts taken by S.P.A.R.S.H. by cherishing someone else's life.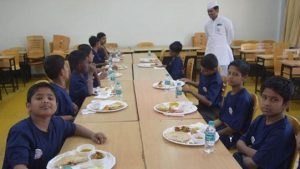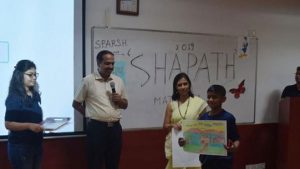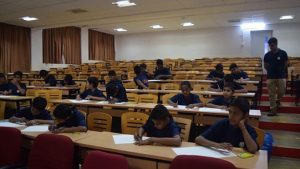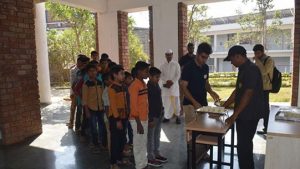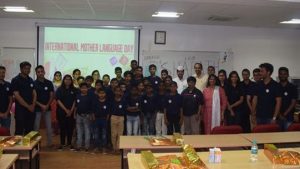 "A helping hand towards overall rural development"
S.P.A.R.S.H. in organization with SCOPE (Symbiosis Community Outreach Programme and Extension) was a part of "Unnat Bharat Abhiyan" which is a programme of the Ministry of Human Resource Development. The students identified the factors hindering rural development and in turn had to come up with the solutions. They collected the demographic data about 5 adopted villages, by connecting with the communities and identified the areas for intervention in those villages. The students surveyed almost 45 households of RIHE village where S.P.A.R.S.H. helped the students with the data gathering, conveyance and establishing the resource maps.
S.P.A.R.S.H. was aware about the importance of sustainable development of rural areas, so the team was actively involved in providing solutions catering to the life, education and health with the students.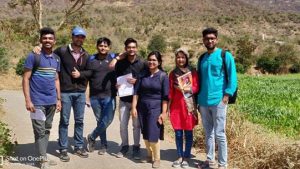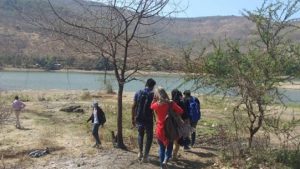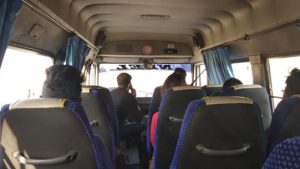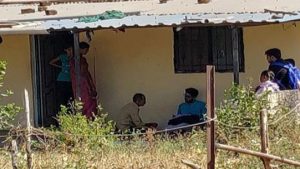 Matribhasha Diwas / International Mother Language Day
"An initiative to express the beauty and heroism of one's language"
The International Mother Language Day, also called as Matribhasha Diwas is celebrated on 21st February every year as declared by UNESCO. S.P.A.R.S.H., being the ISR arm of SIDTM (formerly SITM) celebrated the day with a lot of compassion and enthusiasm. The students participated actively in the celebration where they presented their regional languages (Bengali, Marathi, Punjabi, and Hindi) in their melodious voices. The students were given a gift as a token of encouragement. The team S.P.A.R.S.H. highlighted the importance of mother language, the values and skills acquired from mother tongue and showcased the cultural diversity flourished throughout the world.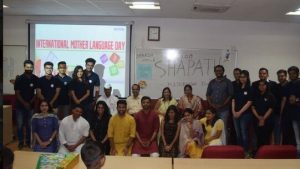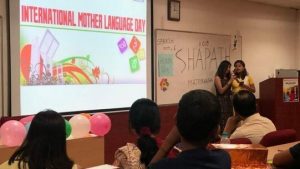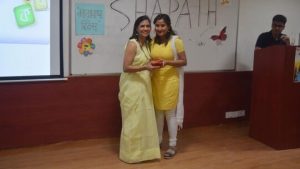 Congratulations! It was great to see the enthusiasm and dedication with which everyone participated. It was a wonderful gesture to donate the money collected as part of this event for a social cause. This thought coming from the younger generation is very beautiful gesture. Secondly quite a few of the participants in the stall were various committee members so it was great to see them participating in this event in spite of the fact that they are simultaneously working on deadlines of their own events. Thirdly, I was very surprised and happy to see not just girls but also guys cooking, serving, and cleaning. And last of all it was great to see everyone enjoying the event.
Prof. Sujata Joshi (Faculty, Marketing)
---
Our team congratulates you for the event ' Fun and Food Carnival - 2014 '. The event brought us the satisfaction of doing something for the cause. We always discuss the business and management fundamentals in the class but this was the platform where we could actually apply that common sense which is not common. The satiation and enthusiasm of the participants with the endless energy showed itself the success of the event. We thank you SPARSH Team to organize the event.
Parth Shah (BATCH 13-15)
---
The good things about "FUN and FOOD event" are one is donation to poor and the other is to bring out our entrepreneur skills involving strategic decision making which includes financial, marketing and communicating with the people. I could see the improvement in my personal skills in the above aspects although I did even figure out few areas of improvement. The quality and variety of food which was served in afternoon is awesome. My wishes to all my friends who made it and showed to everyone in Symbi that SIDTM (Formerly SITM) is no where less. My wishes to SPARSH team too for conducting this event well and I urge them to continue this event in my coming years too.
Nikilesh Kolipakula (BATCH 13-15)
---
WE WITNESS SMILES
In a world full of pains and sorrows,
Pettiest of matter pesters and riles;
Someone tries to make a moment of happiness and,
WE WITNESS SMILES.
People differ in ideas, they differ in thoughts,
They fight over colour, cast and styles;
But somewhere someone looks beyond these and,
WE WITNESS SMILES.
Someone never needs to walk for anything,
Someone has to run miles;
Then someone turns up to help and,
WE WITNESS SMILES.
Somewhere a child silently cries,
Somewhere one cant read for whiles;
Then they get a helping hand and,
WE WITNESS SMILES.
Restless efforts earn no tangible rewards,
Sleepless nights don't lead to rich profiles;
But it hardly matters because at S.P.A.R.S.H.,
WE WITNESS SMILES.
Shamik Trivedi (BATCH 13-15)
---
We always talk about our eagerness to help people but most of the time we lack initiative. 'Blood Donation Camp' was one such initiative by SPARSH committee which helped me take out a part of my responsibility to give back to the society. I was amazed by the facts about the current shortage of blood units in India and how negligent and unaware our society is. I was also amazed by the hospitality and the endless energy shown by the Committee members and the volunteers, always with a smile, throughout the day. Thank you S.P.A.R.S.H. committee for giving us such a great experience and at last "Sahi mai acha lagta hai".
Kunjesh Mehta (BATCH 14-16)
---
You should give back to the society as much as you take. That is the circle of life. Volunteering for the CSR activity organized by SPARSH committee was a real deal for me. An opportunity to aid and facilitate, to the underprivileged children, the opportunity to learn and to gain some knowledge from the beautiful world around them. We as a team went down to Sus village and taught to the kids of fourth grade. The basics of noun as well as differentiating singular and plural. The students were very eager to know and explore unknown and unexplored boundaries as we their teachers held their hands and guided them towards their mission. We had fun times teaching them, playing with them, and exploring their talents. I would any day volunteer for this.
Ruchi Doshi (BATCH 14-16)
---
Teaching and playing with the ever enthusiastic kids of Malegaon tribal school was sheer delight. The school situated in a very beautiful location was doing a noble job by housing those kids. Felt really good to be a part of the activity organized by S.P.A.R.S.H. would like to volunteer and participate in more such events by them!
Smit Vavadia (BATCH 14-16)
---
Visiting the tribal school was an experience that one must have to understand and value all that one has been endowed with. It made me realize that true happiness lies beyond the materialistic interpretations of life and can be spread by a simple act of smiling. It was a learning experience that I will cherish forever.
Shreya Sharma (BATCH 14-16)