Guest Lectures / PD
Guest Lecture by Mr. Amit Gupta
Speaker: Mr. Amit Gupta has over 11 years of Industry experience in Product Management, Pricing, Business Strategy, Business Development, New Product Development, Marketing & Communication. He is currently working as an Associate Director at KPMG. He has been a consistent high performer with leadership and Team Management Skills to effectively manage business operations in a dynamic & competitive environment.
On 31 st July SIDTM (Formerly SITM) had invited Mr. Amit Gupta to deliver guest lecture to the 2 nd year MBA Batch. The opening question being regarding the expectations of the audience from the lecture, the stage was all set for an interactive session.Narrating the Zen Master story, Sir emphasized the importance of the concept of learning, unlearning and relearning. Talking about the marketing concepts, he presented his take on the 4Ps and how they have been incorporated in our lives.Depicting the trends which swiped the Indian economy during 90's, 2000 and 2008 marking the era of Liberalization, IT revolution and even recession, he highlighted that being a young country , India showed the world that it is not as vulnerable as others thought it to be . With the advent of cashless society,instant gratification and rise of digital consumer India has come a long way. The future being marked with disruptive technologies like augmented reality, social media, mobility , cloud computing , big data , embedded system etc. have led to a nonlinear consumer buying process because of the way services are being marketed, these were some of the insights sir dwelled upon.
He also touched the various aspects of product management, providing the audience with enough food for thought regarding brand salience, brand imagery,brand tracking, loyalty framework, reasons for customer churn etc. In terms of telecom he also mentioned that the operators should collaborate with OTT players in order to increase data usage .The session was made interesting with the use of relevant audio visuals and examples . He encouraged the student to put forward their view point on the topics being discussed and garnished them with his expertise.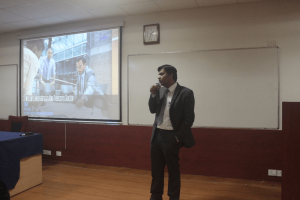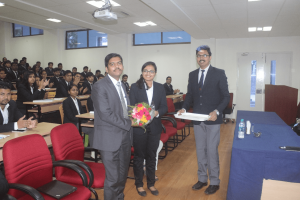 GREENOVATION - Innovations in Telecom for a Greener Environment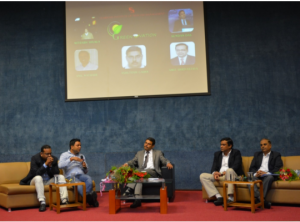 "GREENOVATION- Innovations in Telecom for a Greener Environment" was a thought-provoking panel discussion, which revolved around the constraints in telecom technologies and some of the viable solutions for a greener environment. The discussion started with a simple question of "What is Green?" after which the panelists elaborated further on it, yielding the fact that the total carbon dioxide emission globally is about 40 Gigatons and is expected to increase up to 52 Gigatons till 2020, a prime concern for our planet.
Renewable energy technologies like hydrogen and methanol fuel cells, solar and wind energy have contributed to a minor decline in the carbon footprint but these sources are not commercially viable as telecom industry lacks proper infrastructure and aptly trained people for these technologies.
Policies and regulations play a vital role in these kind of innovations to step-up. The Government of India has issued a notice to all telecom operators to make all towers in India hybrid by 2020. Energy Efficient Solutions like consolidation of devices for less power consumption which actually means consolidation of all microwave components in one box and all antenna components in another could well be a game changer. The use of single RAN technology and self-defined networks are going to be the future of telecom industry.
| | | |
| --- | --- | --- |
| S. No. | Name | Designation |
| 1. | Mr. Amit Shrivastava | Head-Energy |
| 2. | Mr. Anil Wathare | Chief Technology Officer-Maharashtra & Goa |
| 3. | Mr. Ashutosh Gaiha | Head Infrastructure Planning and Designing |
| 4. | Mr. Kundan Das | Director APAC, Business Development |
| 5. | Mr. Mitrabh Shukla | Head- IP Planning and Optimization |
Alumnus Mr.Priyank Chandra quoting the importance of summer internship.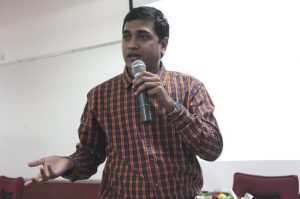 Speaker: Mr. Priyank Chandra,Senior Strategy Consultant, IBM Global Business Services After a trail blazing two months of summer internship, the students were treated by a mesmerising Lavale weather, but were also reminded of what lies ahead – the Placements Season. The batch was provided with added motivation as Mr. Priyank Chandra of IBM interacted with them on 19th June, 2015. A proud alumnus, Mr. Priyank talked about the positive changes that he had observed in the batch after working in the industry. He revisited the checklist he had shared with the batch before the summer internship period, and reviewed the strengths and weaknesses of many students. An energetic mentor that he is, Mr. Priyank humorously pointed out some areas of improvements for the students as he talked about project reports and INTERVIEWS. He also stressed on the importance of reading and sharing of information and ideas within the batch, and staying up to date with the latest happenings in the Telecom sector.
Speaker: Ms.Manasi Phadke, Economist, eminent Faculty and Consultant.
Topic: IUnion Budget 2014-15
She gave valuable insights about the Union Budget 2014-15. She started by making the students aware of the importance of the Union Budget followed by its basic constituent elements. She threw light on the entire economic perspective and the policies of the country which included the Fiscal and the Monetary Policy. Also, she emphasized on the role of our new Prime Minister Mr.Narendra Modi in constructing a budget which focussed on developing long term assets of our country such as infrastructure, defence, efficient education system and so on which will in turn help in reducing the Fiscal Deficit value significantly. Moreover, she talked about what the new budget promises in terms of opportunities for students in the telecommunication sector. All in all, the session was an enriching experience for the students.
Windows Operating System-The Road Ahead.
Speaker: Mr.Vikram Pendse, Subject Matter Expert - Windows Azure & Application Migration Capability at Avanade India Development Center
Topic: Windows Operating System-The Road Ahead
He started by explaining some of the key features of Windows OS which play a major role in differentiating it from the market leaders like iOS and Android. He also shared his experience while working on various projects with Microsoft emphasizing on the fact that Windows is one of the easiest platforms for any developer to work on. Moreover, he threw some light on Microsoft's strategy behind Nokia's acquisition and the steady growth of both the companies together from then on. On being asked about the future of Windows OS in Mobiles, he discussed the upcoming trends in the Windows OS and how they will keep the customers engaged.
DIGITALIS - Stimulating Marketing Opportunities.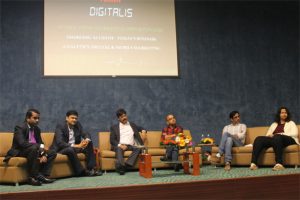 N"DIGITALIS - Stimulating Marketing Opportunities", a mesmerising Panel Discussion threw light over various upcoming trends and technologies in the telecom market. The motive revolved around providing a platform to converge various viewpoints on the mobile marketing and hence, analysing data using big data which could directly impact social and digital media.
Social and digital media in recent years have come up with an aid to customer engagement. A broadened perspective over this customer engagement involves many advantages in the areas of sales and revenue generation from the company's point of view and knowledge transfer from customer's point of view.
With the evolution of social and digital media, data on an extremely large scale is being generated every second. Here comes the importance of Analytics & Big data which unfolds as a cure for marketing myopia and boon for customised marketing.Hence evolves the ease of customised Mobile marketing and mobile devices- changing face of online sales and lead generation.
| | | |
| --- | --- | --- |
| S. No. | Name | Designation |
| 1 | Mr.Anuj Joshi | Partner Development Manager |
| 2 | Mr.Chetan Bhangdia | Associate Vice President |
| 3 | Mr.Harshal Vaske | Assistant Vice President, Sales |
| 4 | Mr.Jatin Madan | Business & Marketing Strategist |
| 5 | Ms.Priyanka Shah | Business Director- Mobility |
| 6 | Mr.Rajeev Mahajan | Director – Digital & Mobile Banking |
Innovative marketing strategies and sales cycle/ Mr Girish Patwardhan
Name: Mr Girish Patwardhan, Sales and Distribution consultant
Topic: Innovative marketing strategies and sales cycle
Mr Girish Patwardhan, at the beginning of the lecture, shared his valuable experience during his tenure with various prestigious organizations like Cadbury, Kevincare, Reliance retail etc. With the help of a short film, he explained various stages of a sales cycle and the challenges pertaining to sales in different industry verticals. He also discussed about the need of innovative methods in formulating the marketing strategies in today's competitive environment.
Upcoming Trends in M2M Technologies / Mr Anuj Ashokan
Speaker: Mr Anuj Ashokan, President, TSDSI
Topic: Upcoming Trends in M2M Technologies
At the outset of SIDTM (Formerly SITM) becoming member of prestigious TSDSI (Telecom Standard Development Society of India), it was an honour to have Mr Anuj Ashokan, Subject Matter Expert- M2M, President (TSDSI) and an esteemed alumnus of the institute to share his thoughts with students. He is currently working with TTSL in Planning and Implementation of M2M technologies. It was an excellent opportunity for students to gain valuable insights about the upcoming trends in M2M and what value SIDTM (Formerly SITM) can add to the future of industry. He shared his experience about the challenges faced while implementing M2M and the road ahead. During the discussion, he emphasized the fact that India, by no means is lagging behind other countries in implementing M2M and it's up to institutes like SIDTM (Formerly SITM) to take the initiative forward.
Global trends in Cyber Security/ Mr.Durga Prasad Dube
Speaker: Mr.Durga Prasad Dube, Chief Information Security Officer, Reliance Industries
Title: Global trends in Cyber Security
The session threw light on how systems can be protected from malicious attacks when now-a-days the vulnerabilities are so prominent. As the digital revolution is picking pace, we are exposed to threats more than ever before. Mr. Dube emphasized that cloud computing offers numerous benefits but it also enables hackers to better mystify the source of their attacks. The unknown vulnerabilities the system is exposed to are called 'Zero Day attacks'. He raised a concern that even after investing so much in this field there is no decrease in susceptibility of attacks. He discussed the various trends arising from cyber-attacks and threats posed by them. Towards the end, he stressed upon the urgency and criticality associated with the threats to the cyber space, the need to predict solutions for the threats to be posed in future and the role government, legal bodies and awareness among people can play in protection of the cyber space.
Importance of Executive Presence
Speaker: Mr. Mukul Chopra, Head-Engagement and Strategy, Aircel
Title: Importance of Executive Presence
Mr. Mukul Chopra's lecture on 'Importance of Executive Presence' explained executive presence and its importance in an organization. His insights on how an individual can make his presence felt in a large organization were a big value addition to the knowledge of students. He explained this methodology using the P.I.E. Model i.e. Performance, Image and Exposure. The model explained how to create a good personal image and get one's presence felt in the organization. According to the model, the first principle for sustainable excellence at work is an individual's performance. The second part of this model i.e. 'Image' emphasized the need to create a good perception and reputation of oneself in minds of peers in the company. The third and last component of this model i.e. 'Exposure' is concerned about exposure we create for ourselves. Towards the end of the session, he also addressed queries of students concerned to importance of content presentation and expectations from new joiners in an organization.
Rules of The Game: Discover, Learn, Invent the art of speeding up your career/ Dr. Sumit Chowdhury
Speaker: Dr. Sumit Chowdhury, President, Enterprize Eco-system, Reliance Jio Infocomm
Topic: Rules of The Game: Discover, Learn, Invent the art of speeding up your career
Dr. Sumit started with saying that learning is something that never stops and we keep learning through our experiences. There is a need for everyone to reinvent themselves every day in order to differentiate oneself from others. Dr. Sumit said that one has to identify set of rules which apply to him- 'Keep doing things till you are really good at it and inculcate this kind of rigour and discipline in yourself'. He said that everyone has a purpose in life and to achieve it, one has to transform himself. Most of the times we don't realise our purpose and avoid going out and getting hammered but we must understand that if we state our purpose clearly the whole world would conspire to fulfil it.
In response to a query regarding experiments in life, he replied that one should experiment with connected things so as to create a story. Keep exploring options in order to make good decisions. Keep transforming the definition of success because goals keep changing at every stage in life.
Dr. Sumit concluded by saying that the things which you don't want to do are your biggest limitations. We should not let constraints affect us rather we should learn how to manage our career after we have made a choice to weave our experiences into something more meaningful.