Archive
2022
BASIC Analysis of Green Communications for 5G Implementations: A Case Study of Airtel in Belagavi City.
Author: Prasad Kulkarni, Joel Gnanapragash, Maruti Sadavar.
Sentimental Analysis using Product Review Data.
Author: Amit Kumar, Sonia Setia, Arjun Singh, Thomas Abraham, Yashaswi Shakya.
Blockchain-Based Decentralized Voting System.
Author: Shrey Garg, Simran Chauhan, Deepak Kumar, Saroj Kumar Manna.
Smart Attendance using Real-Time Face Recognition.
Author: Habibulrahman Azizi, Numan Amin, Sayed Shoaibullah Shams.
Smart Medicine Box using IoT with Alarm and SMS Notification.
Author: Deepak Divakar, Saurav Kumar Singh, Fedina Dkhar.
Path Leading Approach to 5G Deployment for the Indian Communication Service Providers.
Author: Sanjay Shrivastava

If you wish to get a copy of the journal you may log on to the following website and subscribe for the copy of the journal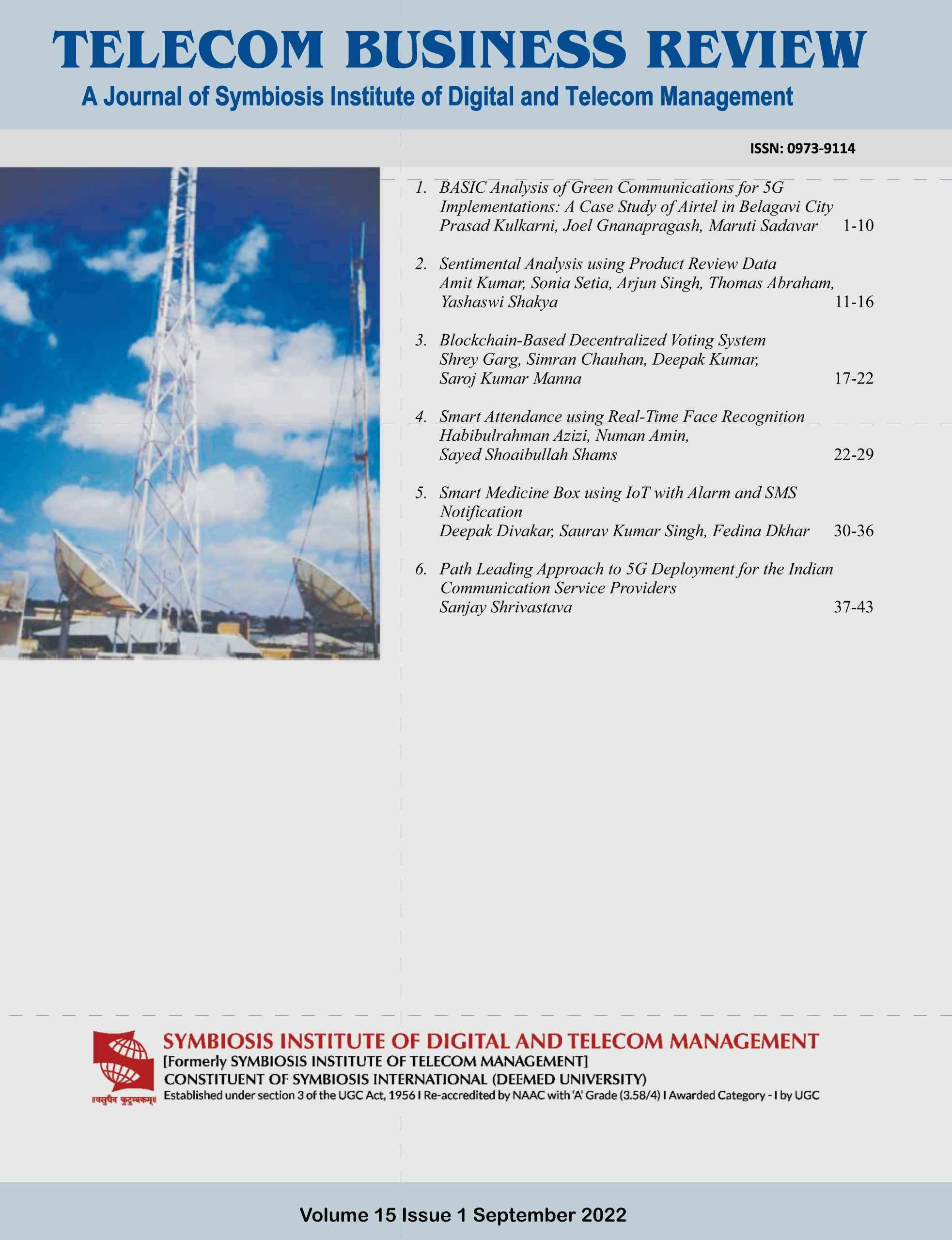 2021
Performance of Telecommunications in India: Panel Arellano-Bond GMM Estimation of Tele Density.
Author: T. Lakshmanasamy
A study of the sentiments of employees during covid-19:
Author: Sudhir Kumar Pant and Manjari Agarwal
Overview of 5G Broadcast and Multicast Services
Author: Padma Panchapakesan
5G Network Slicing- Revenue by Slice.
Author: Rahul Arora
Significance of Non-verbal Communication in Effective Healthcare Management.
Author: Dr. P. Ravi, Haebus Solomon Vethabothagam.
In-class to on-screen: the not-so-easy shift to online education in tier II and tier III cities.
Author: Amandeep.

If you wish to get a copy of the journal you may log on to the following website and subscribe for the copy of the journal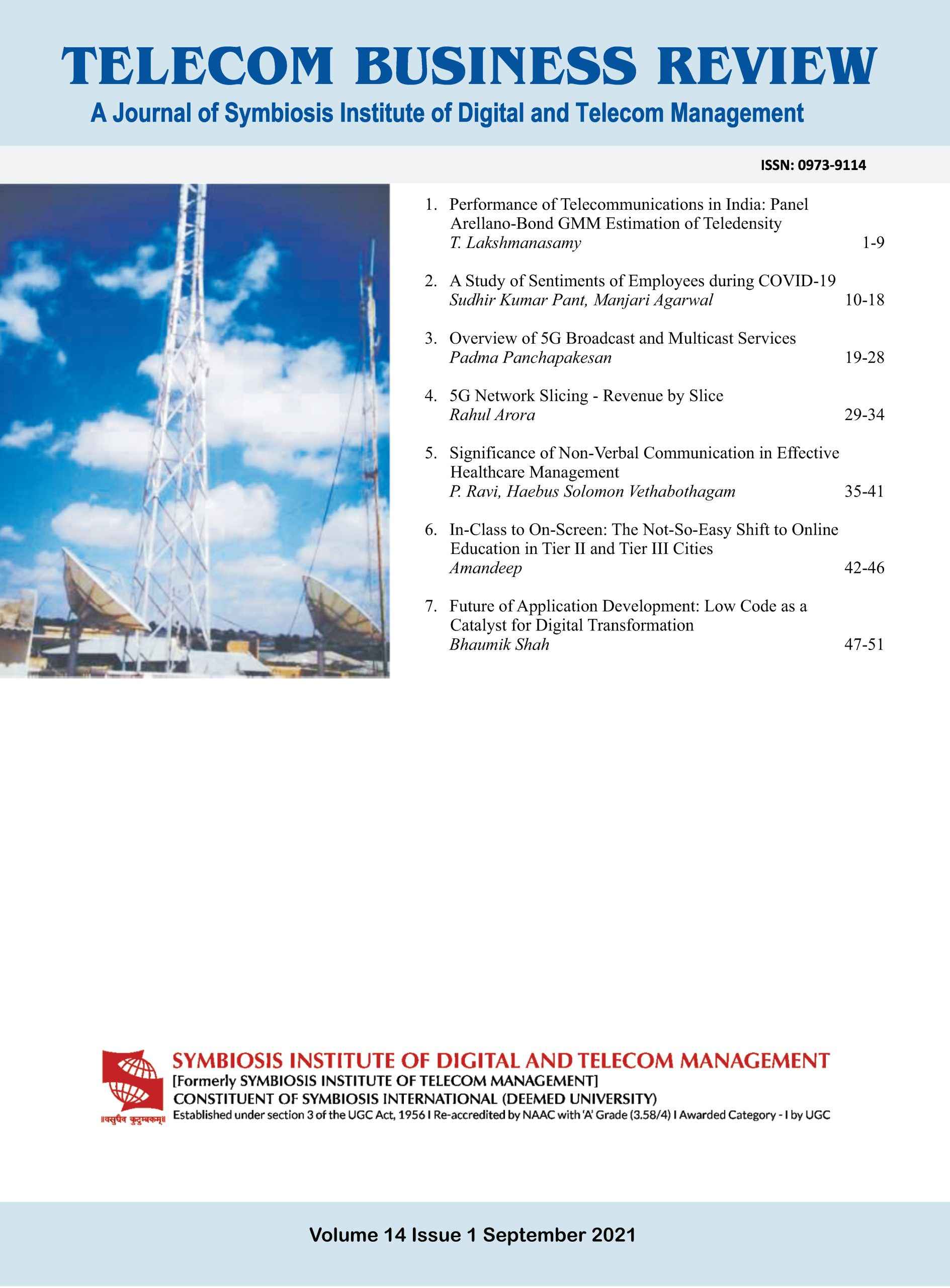 2020
Building Blocks of an AI Framework for an Enterprise
Consumer Behaviour towards Mobile Social Media and OTTs from Data Monetization and Customer Engagement Perspective
A Survey of Methods, Tools and Applications of Knowledge Base Construction (KBC)
Value Stream Mapping (VSM) Led Approach for Waste and Time to Market Reduction in Software Product Development Process
Data Protection Framework for India
Fintech: Emerging Trends
Niral Open Product Framework
Convergence of 5G, AI and IoT Holds the Promise of Industry 4.0
Building the Next-Gen Cyber Security Operating Model in a Digital Ecosystem
2019
Impact of Ultra Reliable Low latency 5G on Internet of Everything.
A Study of Collective-Work Approach on Perceived Creativity for Enhancing Leadership Qualities in IT Companies.
Layered approximation for deep neural networks.
Data Monetization Strategies for new age Digital Communication Providers in India.
Executing Strategies A bird's eye view of the future of the Communications sector.
Revolutionising healthcare with 5G.
2018
IoT driving social changes
Study of Expectancy Motivation in IT Developers
RTLS-Operator's share of the Pie
Satellite Communication (NTT & BSNL)
Artificial Intelligence in Prosthesis
Intelligent Transportation System in India
Need for New Business Models in Telecom and Emerging Trends
2017
A Study of Personality Traits, viz., Extraversion and Introversion on Telecommuters' Burnout'
Business Transformation- Consulting Perspective
Overview of LTE based Cellular V2X Communication
IoT strategy for Telcos: Critical Success Factors to Win in the Changing Business Landscape
Digital Disruption is Redefining the Customer Experience: The Digital Transformation Approach of the Communications Service Providers
Empowering the Future 5G Networks: An AI based Approach
Digital Transformation at Workplace: ICT as a Key Enabler of Smarter Buildings
Blockchain in Telecom Sector- An Analysis of Potential Use Cases
2016
Profitable Solution to Emerging Market Challenges through 'Internet of Things
Implicit Testing- An Improved way of testing software
Decoding DA-Vinci Code: TMMI Assessment Model Revisited
Telecom-OTT partnership – Generating New Revenue sharing models
Valuation Techniques in Telecommunication Industry- an Alternative Approach based on Operating Cash Flow and Number of Subscribers
Literature Review of Service Failure, Service Recovery and their effects on Consumers and Service Employees
2015
Flexible Spectrum Management: Approaches for India
Management of Service gaps by infusion of technology
Exploration of Product Centric Factors in Telecom Industry
On the History of Telecommunication: Patents, Disputes and Rivalries that Shaped the Modern Telecommunication Industry
Social networking sites continuance: an application of extended Theory of planned behaviour
Analysing the Indian subscriber behaviour towards Mobile Social Media – A data monetization & customer engagement perspective
Innovative Product management driving enhanced Customer experience management (CEM)
Wrist Wars: Smart Watches vs Traditional Watches
2014
Data Quality and Integrity Management for Telecom Operators.
Implementing the new age Telecom Business Model.
Monetizing SDN: Emerging Business Models.
CSP's in the World of OTT's: How would they win the battle?
Internet of Things: The Next Frontier of a Networked Community.
Business Case for a FTTX Provider in a Smart City.
Comparative Analysis of Regulatory Frameworks: A Study of Three Sector Regulators in India.
Analysis of Recent International M&A Trends in telecom Industry-A Case Study.
2013
Challenges in Outsourcing of Telecom Tower Management – System Integrators (SI) Perspective.
Enhancing Customer shopping experience with indoor LBS in Retail stores.
Impact of IFRS on Financial Aspects of Indian Telecom Operators: A Conceptual framework.
M2M: The Wave at Indian Coast.
Next generation Revenue Assurance.
An Overview of Indian VAS Industry: Regulatory Perspective.
Reactive Data to Proactive Intelligence-the Way Forward for Telco's.
The Art of Business Transformation.
2012
A study of automobiles as future nodes of mobile networks.
Data Age in Indian Telecom.
Identification of Factors Influencing Consumer's Buying Behaviour for Mobile Handsets.
Policy and Charging Control – A Necessity.
Why does water defy gravity in Waterfall model?
Business Intelligence-A Telecom Perspective.
Envision the Roadmap To Synergize Telecom and Cloud.
Cloud SLA's, Pricing policies, and Business Models.
Application of IFRS in Indian Telecom Industry.
2011
Convergent Billing – The Roadmap Ahead.
IT Disaster Recovery Planning.
Near Field Communication on Mobile – The Next Generation Mobile Transactions.
Mobile Unified Communications and Challenge.
Managed Services: Analyzing Strategic Potential in Emerging market.
The Evolving Handset Market in India: A study of facts with reference to tier 2 & 3 cities.
Self Care: Unleashing the Power of Superior Customer Service.
Monetizing the convergence of Social Networking, Mobile PhoneLocation Based Services.
Customer Acquisition Form Management & Subscriber Verification.
Outsourcing in Telecom Industry: The Road Ahead.
Billing for VoIP Services.
An Overview of the Financial and Economic Impact of 3G Auction in India on the Union Budget, Telecom operators and the Indian economy.
Beyond 3G: Fourth Generation.
2010
Low Utilization Towns (LUT s) in Telecom: A Study of Imperative Facto causing underutilization of Telecom Services in Rural India.
MVAS: New Growth Engine for Telecom.
Mobile Infrastructure Sharing.
Mobile Number Portability: The mystery yet to be uncovered.
Indian Telecom: Survival of the Cheapest.
Comparative Cashflow Statement Analysis.
Operations Support System, Business Support System & its Business Implications.
Spectrum Auction Process for 3G Mobile Services in India.
Marketing Trends in Telecom at Indian Level.
2009
Analysis Of Cash Flow Statement As a Tool To Appraise Financial Decisions Of Companies.
Identifying Alternatives Means For Increasing Retailers Loyalty-Cellular Service Provider(CSP's) Perspective.
Turnkey Solutions In Mobile Infrastructure-Market Analysis, Feasibility Study & Evaluation Of Implementation Strategy.
Mobile/Ultility Payments: Life Made Easy.
Business Viability Analysis and Technological Study: Wimax.
Spectrum for 2G & 3G Mobile Services.
Mobile Base Station Antenna: a Health Hazard?
2008
Review of TRAI recommendations on components of adjusted gross revenue (AGR).
Service Coverage of Cellular Mobile Phone Service.
Mobile TV – The Groundbreaking Dimension.
Optimization of the Product Development Process of an OEM.
Study of Thin Client Computing Vs Traditional Computing Experience.
Covered……But Not Served.
Exploring Customer Perceived Value in a Technology Intensive Service Industry.
A Business Model for Fibre to the Home (FTTH).
WiMAX for Rural Connectivity.
Managed Analytic Services.
Tertiary Revenue Enhancement in Rural Telephony Business.
Village Virtual Network Operator (VVNO).