Student Outbound Programme
Empower Camp – Corporate Kabaddi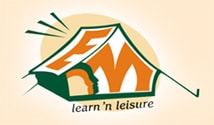 The students of first year had an enthralling adventure for three days at the Empower Camp from 23rd to 26th November in the natural, captivating and serene environment offered by the Empower Camp's "Corporate Kabaddi" program. With emphasis on enhancing human effectiveness through personality enrichment, the camp offered à la carte menu covering a vast variety of facilities and activities. The three days spent at the camp were full of fun, excitement and adventure.
The plethora of activities like A-frame, Prahar, Multi-discs, raft building etc Provided the students a lot to learn. The learning gained from these activities will surely benefit the students throughout their life, both personally and professionally.
The tents provided to us were well equipped and 4 – 5 of us enjoyed each others' company. The 3 days that we spent was a wonderful experience as it gave us an open platform to explore ourselves and brought out some really unknown qualities in us and help us know the blind area of our personality.
The activities like "find your way" helped us learn the importance of merger and acquisitions, and qualities of cooperating with peers. We also enjoyed the boat making and then winning the race. At the end of the adventurous day, we were asked to go into the river to feel the water that refreshed all of us in no time.
ABSTRACT
We also enjoyed the trekking at the end of the session where we learnt the quality of trusting each other in the task completely, as some people were blindfolded and others had to accompany them. It was an ice breaker with respect to the perception that in the corporate world you cannot trust anyone. The tagline "learn n leisure" truly justifies itself when applied to this camp.
Some feedbacks from our batch mates – "Empower activity was a breath of fresh air from the hectic schedule of college. The expectations before going were that it'll be relaxing, refreshing and rejuvenating with some important MBA lessons intact. But it turned out to be so much more than that. It was full of adventure and exciting activities. My personal favorite was Prahar. I came back with loads of new energy and a fresh zeal of life to learn and explore"